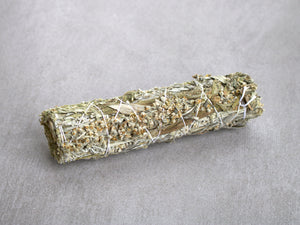 Mugwort Smudge Herb Bundle
Mugwort scent is herbal and grassy-sweet. Burn mugwort for assisting in deep meditation and to bring lucid dreams. 
A smudge bowl for catching falling ashes is recommended. 

These mugwort herb bundles average 4 1/2 inches in length 
and last several uses. To extinguish, smother in a bowl of sand or salt, or dab in a very small amount of water. 
---
We Also Recommend