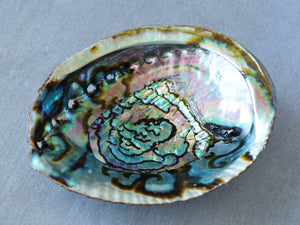 Abalone Shell Smudge Bowl
The perfect natural smudge and incense bowl. These 5-6 inch abalone shells have colorful, iridescent mother-of-pearl patterns inside. They are supremely strong and fire resistant, making them excellent vessels to set down your burning smudge sticks, or to catch their ashes as you walk around your space. Add a layer of sand or salt to the bottom to safely burn charcoal or cone incense, or use the natural holes along the edge of the shell to stand up stick incense.

An abalone shell similar to the picture will be chosen for you. Each are slightly unique.
---
We Also Recommend