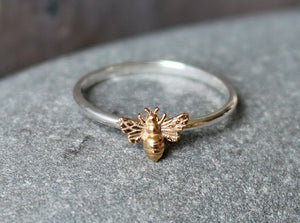 Bee Ring
A dainty bronze honeybee on a sterling silver band. In folklore, honeybees are commonly depicted as messengers for the spirits. It is an old European tradition to "tell the bees" of deaths, marriages, and other important events. 
Ring is sterling silver with a 
contrasting
 bronze honey bee. 
Bronze jewelry at One Urban Tribe is real bronze (an alloy of copper and tin) and is completely nickel free. Choose from sizes 6-9.
---
We Also Recommend