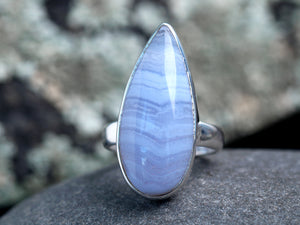 Blue Lace Agate Ring
Blue lace agate is a deeply soothing stone, reminiscent of clear skies or still water. An excellent talisman for anxiety sufferers, use blue lace agate in your practice to ease fears of confrontation, public speaking, and all varieties of social interaction. Carry or wear blue lace agate to lend power to your words and make yourself heard.

This blue lace agate ring is one-of-a-kind, set in sterling silver. Ring size 5 1/2.
---
We Also Recommend