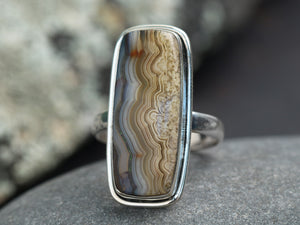 Crazy Lace Agate Ring (10)
Crazy lace agate is named for its wild, intricate bands of colors that swirl in every direction. It is also called "happy lace" or the "laughter stone" because of its exuberant and joyful character. Wearers of crazy lace are often the life of the party. This agate reminds us not to lose our sense of humor as we travel our spiritual path, improves mood, and nurtures a friendly atmosphere.

This crazy lace agate ring has distinct banding and wild patterns. This one of a kind ring is sterling silver, size 10. Ring face measures 1 1/8th inches.
---
We Also Recommend