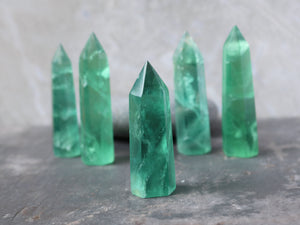 Green Fluorite Point
Fluorite represents knowledge and clarity. Meditate with fluorite to clear the mental chatter that impedes your peace of mind. Green fluorite aids in finding your path through difficult decisions and is especially useful for illuminating matters of the heart. Green fluorite can help untangle what you want from what you believe to be practical so that you may move forward in true balance.

These green fluorite towers come in a choice of two sizes. 80 gram specimens average 3 inches tall, and the 100 gram specimens average 3 3/4 inches tall. You will receive one green fluorite point similar to those pictured in the size of your choice.
---
We Also Recommend