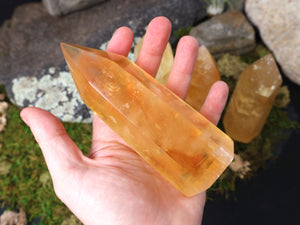 Orange Calcite Tower
Meditate with orange calcite to lift feelings of apathy and sadness. Orange calcite's energy can help release the burdens of past traumas, clearing the way for newfound optimism and joy. It can be especially helpful in regaining self-confidence in the aftermath of damaging relationships. Keep orange calcite in your environment to calm anxieties that keep you from your goals.

These towers average 225 grams and measure about 4 inches tall. One orange calcite tower similar to those pictured will be intuitively selected for you. Each specimen is unique, all are beautiful.
---
We Also Recommend