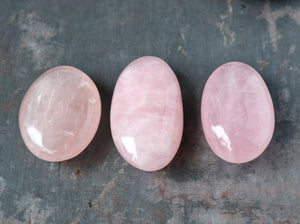 Rose Quartz Palm Stone
Smooth, organically shaped rose quartz palm stones, perfect for holding while meditating or squeezing in times of stress.

Rose quartz is the stone of love in all its various forms: romantic love, platonic love, familial love, and self-love. Carry or meditate with rose quartz to nurture your loving relationships and increase your compassion. Rose quartz's gentle energy can help bring peace to relationships that are going through trying circumstances or heal a broken heart. Rose quartz makes an excellent gift of affection for someone dear to you.

One rose quartz palm stone similar to those pictured will be selected for you in the size of your choice. 40g size measures about 1 3/4 inches, 100g stones are around 2 1/4 inches, 120g size averages 2 1/2, and the 175g size is about 3 inches. As with all natural stones, exact sizes and shapes will vary.
---
We Also Recommend