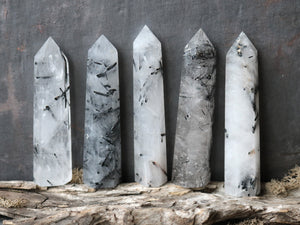 Tourmaline Quartz Point
These unique crystals are formed when black tourmaline grow through a deposit of clear quartz, creating a compound stone. Tourmalinated or tourmaline quartz is a powerful shielding stone that combines the protective qualities of black tourmaline with the amplifying properties of quartz. Tourmalinated quartz acts as a spiritual "return to sender" of negative energy, and is an excellent stone to wear, carry, or place in your space for protection. 

These points average 75 grams and 3 1/2 to 4 inches tall. One tourmalinated quartz point will be selected for you similar to the ones pictures.
---
We Also Recommend