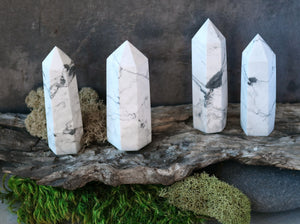 White Howlite Crystal Point
Howlite clears the mind of mental chatter and silences nagging, repetitive thoughts, especially those that keep you awake or disrupt your meditation. Howlite teaches that you are not your thoughts, but instead the watcher of thoughts. When intrusive thoughts arise, simply acknowledge them, wave hello, and gently send them on their way again.

These howlite point towers average 78 grams and stand 3 1/2 inches tall. One howlite point similar to those pictured will be intuitively selected for you.
---
We Also Recommend